*lets out a bigass sigh of relief* I'm finally done editing those pics from the boyfriend's partay *woot*
Now i'm left with the other celebration's pics...and somemore...NVM i'll have another week for me to waste =D
Before we go into the pics, this is one pic of shan and i that i have yet to post up :D it's taken during our last girly outing...when are we doing it again shan?
:)
Ok now the partay pics.
(i can't believe i wasted so much time on these)
On
31st of March 2007
,
relatives and friends of
Eugene San to The Mun Shaik aka my baybee
were invited to his lil crib for
dinner and dance
*Cheh* i mean to gather together to celebrate his
21st
birthday :)
I remember it was pouring at bout 7 and my heels were all soaked up..i was so worried it would get spoil...
yeahnewaes
, we got some awesome food served. The
Laksa Johor
loves visiting me and my taste buds in my dreams from time to time since that night. It's fusion laksa cos the noodles were actually
spaghetti
*rubs tummy* i want!!!!
His relatives were really friendly. Hehehe. Well, here are some of his closer friends whom he invited that night.
We have
erinn
and
jonz
his good ol buddies.
Fiona
,
Van
and
Adrian
, his hang out
kaki
s. The other two members of this "gang" of his left earlier, before the picture session. *aww*
It all started when...
erinn and i took our first shot. If you're observant enough, i wasn't wearing my contacts on my left eye. The lens was making my eye hurt so badly i ran up and down to the loo to
check/recheck/adjust/readjust
it and in the end remove it.
Ruined my make up
because i was tearing also. :( back to the pics.
They are all very tall people. Even i feel
short
standing next to them *sigh*. Love this picture of the 4 of us.
Lastly
, a group shot to end it all. =) *phew* finally done with all the pictures.
*
*
*
*
*
*
*
*
*
*
*
*
*
*
*
*
*
*
*
*
*
*
*
*
*
*
YEAH RIGHT!


(told you i'm obsessed with lining up those ***s)

z y e n n
camwhores with the birthday boy!
and erinn! i heart this woman because she has a
"
zhu
"
and a
"
-
"
in her name too hahahaha Nayh its more of because we are so
similar in our thoughts
:)
More camwhoring action! We were supposed to reverse roles, the guys and the girls...but i don't see any difference.
camwhoring is like medication to the soul you know. It makes people happy....
It
also makes some people
...erm...*cough* no comment *cough*
But of course for camwhores (like us) to fully explore our potential and get the best out of camwhoring, we need
tripods
!
Because with tripods, we can go
wild
like this.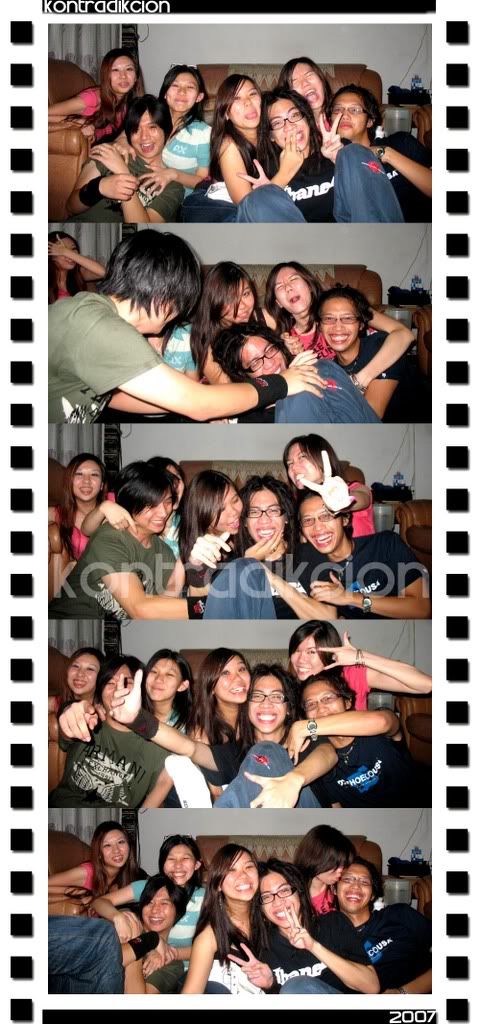 We were all really happy you see :) it's not very often you get to see baybee so cheeky hehe
But as always, the fun has to come to an end. boohoho. I had
Psychology Colloquium
the next day where i was supposed to have 2 presentations and reach
HELP!!!
at 8! so yeah, everyone had to go home at about 1? or was it 2? because of me :( so pancung i know.
It was so pancung-ing that even Adrian's car refused to leave the place.
Everyone was stressing out because it was quite late already. However....
We snapped some more pictures while waiting
! so evil.
Erinn and Jonz left soon and Baybee sent me home before going with the rest in the car to get some petrol because the final and most suitable diagnosis for the car was that
IT RAN OUT OF GAS.
and true enough, the car was low on gas hahaha. Benzin is petrol in German. There was even a song dedicated to petrol in German. hahaha
On the way back to my place, we saw this....
Pokok tumbang oh. Pity the owner of those cars.
Anyways.
pictures of us.
and now i can finally say....The End.