Exactly, this piece of *cough* is dumped straight into the bin right after i captured the last of it.
A bunch of us went by to Midvalley for lunch after the last paper to sorta celebrate and eat out all the stress in us. We so deserved it. haha.
sadly, Tiffany and Pek Wah didn't get to join us. One because of some miscommunication (sorrry tiffany) and another one cause of technical complications? (hp failing on her) aiks. No worries girls we still have the Genting trip *winks*
We decided to have lunch @
Chillis Some Shanghai Restaurant Dominos Manhattan Fish Market Food Court
S

an

F

rancisco

S

teak

H

ouse

because they were having a set lunch promotion.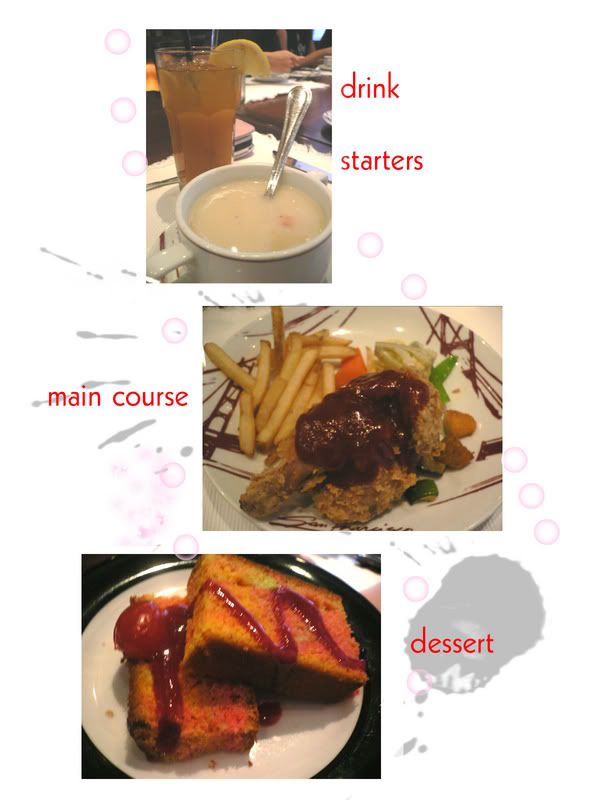 Once the starters arrived....
no mercy~
I thought the meal was average. Nothing to brag about...was expecting something better from SFSH.
Lovely company :) All happy yappy after our finals.
After the meal outside SFSH. I have to say we are quite a kiddy bunch. haha but its all good :)
Saw this advert outside Fineegan's . Very Kinky i must say.
Laa dee daa we snapped some pictures.
We wiggled our toes.
We snapped more pictures. (Cam whoring with me camera would result in pictures being displayed on my blog :O *ngeks*)
Our next stop was TopShop. Some of us grabbed some stuff and tried them out in the fittin room. Too bad im not allowed to post any pics of the master and the assistant. *sigh*
Didn't have much plans after lunch so we just hung around Mid Valley. Most of us were really exhausted due to the late nights.
So we decided to chill at the food court. Everyone was pretty sleepy and moody by then. Except for Beng Tack and Melissa though...kekeke. Candid the cute couple and they gave me these stares...aiks!
sorry sorry...hehehe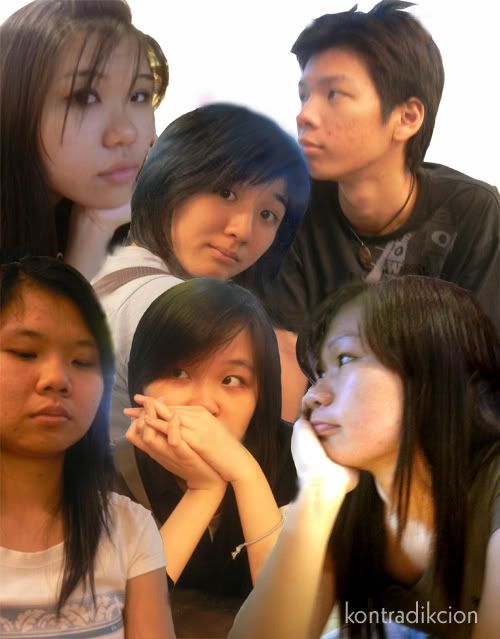 The rest of us were at another table chatting about stuff, singing to "we are the Champions" and stoning.
Then we all went home to snooze.
This sem's post exam celebration was not as well planned as the previous sem but it was nice being able to hang out with the crazy psycho people after all the stresssssssssss
Not in the mood for blogging now so i'll just have to end right here.
Took this during the recent research Colloquim.
Cheers.