Haven't been blogging much and i've got a whole lot of photos in my cam waiting to be uploaded...but have yet to have that chance to be transfered to my dear laptop and go through the almighty photoshop and finally being displayed on this lame excuse of a blog of mine *sulks*. Obviously I'm not in a very chirpy mood so i'm just gona make this short.
I'm sure those not new to kontradikcion noticed a few changes huh? haha yeaps this is the new "layout". (but i didnt actually do much changes to it shhh) I wanted the design to be clean, simple and ME. U guessed it, that bigass z y e n n and my face right at the top of this page is just a form of me being inordinately fascinated with my dear self. And if u think it sucks? I'm open to comments...constructive ones though.
Last SUNDAY
was in 1u.
Marks & Spencer
. Was shopping around and spotted this
R

olex
on the wrist of a malay lady. She turns around and guess who... it was my
ex pengetua of SMKDJ
. Datin something Hamidah or something haha. I didn't acknowledge her though because i didn't know what else to say after saying HI and smile. We were lining up at the cashier you see...so it was at least a 10 minutes wait and it would be awkward if i said hi and just end up faking my smile for the next 9 minutes not knowing what to say. Anyways, ex Djians wanna know a secret? *giggles* our Ex filthy-rich datin wears
turqoise
colored bras from marks and spencer *ngeks* damn sexy ok...love
turqoise
and all shades of
greens
and
blues
...and
reds
...and
purples
...whatever, i dont have a favourite color.
Besides that, i went to
Genting
, chilled out with enegue the baybee, watched a movie, ate alot of pasta, stoned, met up with pei shan and ate more pasta. Oh gosh i had
3
pasta meals this week. Carbonara, Marinara and Aglio Olio. shit. *stares at bigass tummy* =(
EDIT : an entry without a photo? it's just wrong :P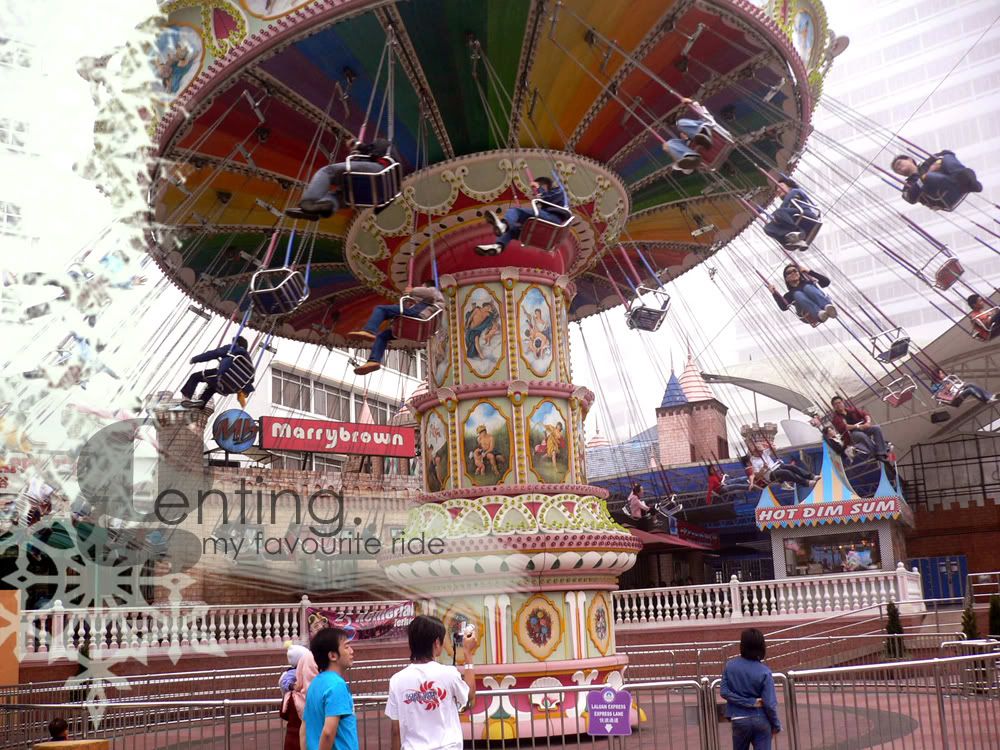 This was my favourite ride in Genting. We went on it 3 times. Loved the stress-free feeling i get from this ride. If only i could have a swing like that near my neighbourhood...it will definitely be my ultimate chillin spot. Spot me in the pic! *whispers* sunniesss...